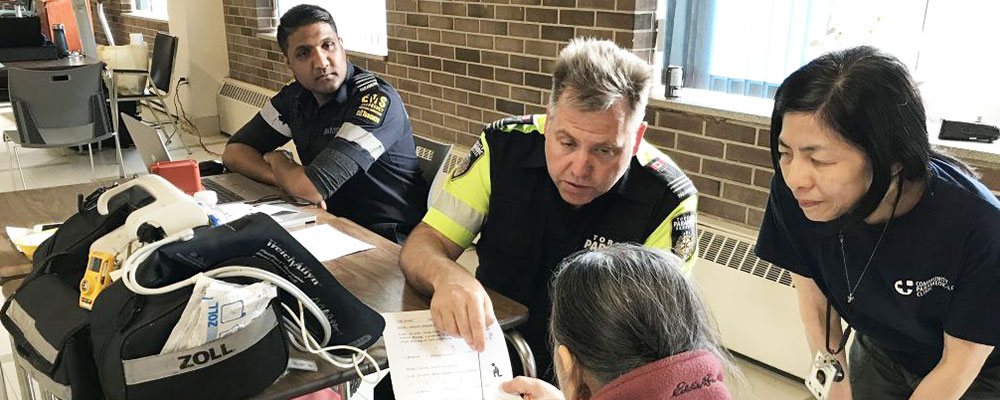 The goal of the Community Paramedic-Led Clinic is to bring primary care and community services to the doorstep of seniors and vulnerable tenants using an innovative approach so that they can receive timely physical and mental health testing and counselling rather than wait until it's time to call 911 for help.
Hong Fook Mental Health Association, together with Cota, Toronto Community Housing Corporation and Toronto Paramedic Services, enters into partnership to offer Ontario's first paramedic-led health clinics in several Scarborough TCHC buildings, providing mental and physical health support, linkage to services as well as educational workshops for low income seniors and isolated/fragile homebound Toronto residents.
The services in the CPLCs include:
medical support

blood pressure check

linkage and referral to medical /physical /mental/social recreational services

consult and collaborate with community service providers to address tenants' home safety and care plan

facilitate a quick, robust and inter-agency response to address TCHC residents with frequent 911 emergency calls

provide education and medication management

conduct "health and wellness" monthly educational workshops

conduct safety checks
CPLC schedule and locations:
Tuesdays @ 50 Tuxedo Court (16th Floor Recreation Room)

Wednesdays @ 20 Gordonridge Place (gym inside the Community Centre)

Thursdays @ 10 Glen Everest Road (Ground Floor Recreation Room)

Fridays @ 4301 Kingston Road (Ground Floor Gym)
*Clinic hours:  11 a.m. – 3 p.m. (last client at 2:30 p.m.)
Appointments are not necessary. For any inquiry about the CPLC, please contact our Mental Health and Addictions Outreach Worker at 647-273-0954.