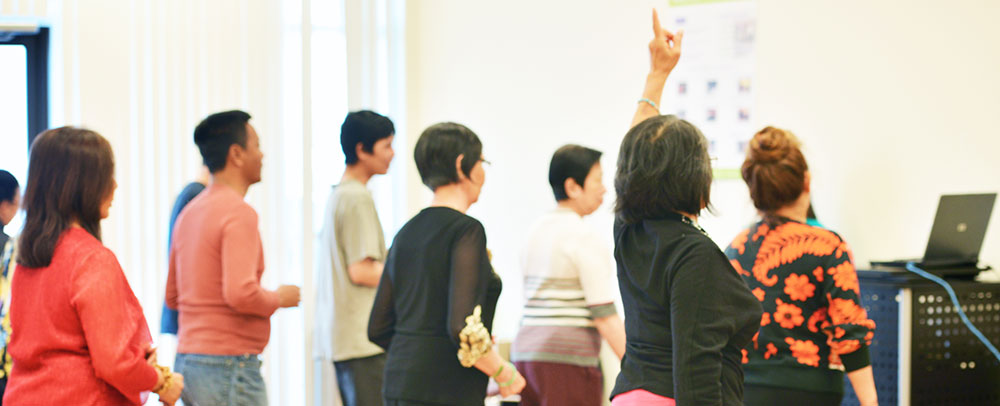 Where can I find buddies on my journey to recovery?
To many clients, Hong Fook's Recovery Programs are their second home.
Over 10% of our participants also volunteer in the program.
About 10% of our participants are in our Peer Supporters.
Hong Fook's Recovery Programs have taken an innovative approach to support service development based on CHIME, a conceptual framework for personal recovery in mental health. Our goal is to provide social and recreational activities, learning opportunities, skill development, peer support, and vocational-related trainings in promoting clients to achieve their recovery goals towards:
C

onnectedness

H

ope & Optimism

I

dentity

M

eaning

E

mpowerment
In our service, we have three major components:
Culturally Competent Recovery College

Peer Support Program
Culturally Competent Recovery College
We offer a wide range of Wellness and Recovery courses/workshops to support our clients to re-discover and develop their strengths, skills and interests on their recovery journey.
Our courses are available to anyone, regardless of their diagnosis, background and experience. All are welcome to attend our courses according to their interests and needs.
In the Recovery College, we work on the principle of co-design, co-deliver and co-review, which means our courses are developed and delivered by mental health professionals and peers with lived experience together.
Our popular Courses / Workshops are:
Wellness-focused: Wellness Seminars, Mental Health 101, Resilience 101, Body and Mind
Recovery-focused: Wellness Recovery Action Plan (WRAP), Recovery 101, Pathways to Recovery
In order to provide opportunities for peers to find a niche in the community and have a sense of belonging, we also have a variety of Leisure Clubs including Chinese painting, badminton, board games, knitting, Ping-Pong, Qigoing, Sewing, Singing, Taichi etc.
Peer Support Program
Peer Support Program offers support, cultivates hope and optimism, and develops a sense of empowerment among peers. At Hong Fook, we have Peer Coach, Peer Support Workers and Peer Supporters working in partnership with mental health professionals to support people in recovery. If you are interested in playing a more active role in developing our courses and peer support programs, we encourage you to complete our Peer Support Training. This training will provide you with tools and skills to support your peers and will give you opportunities to co-facilitate our programs. You'll continue to learn about peer support values and principles beyond the training by attending our ongoing Community of Practice. 
Peer Support Groups are held regularly by Peer Support Workers to encourage conversations around the principles of recovery, and to support peers in developing a positive self-concept and greater self-acceptance. It is also a place to create social connections between peers and reduce social isolation and stigma by developing a supportive peer network.