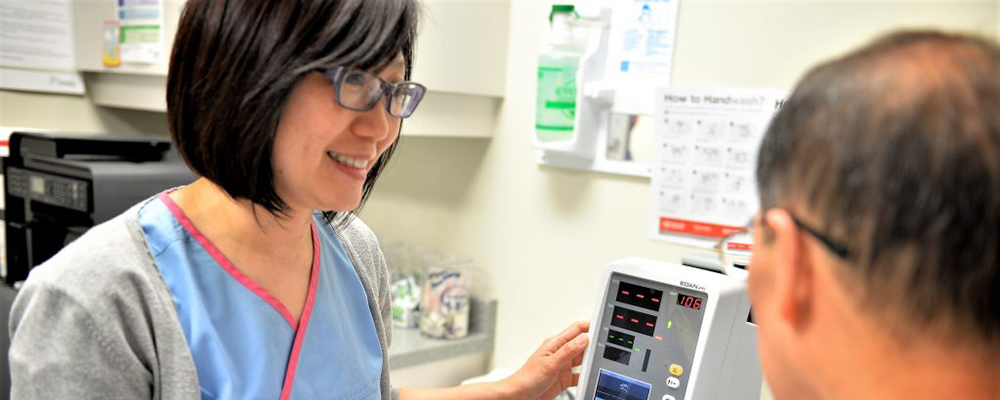 About Us and Our Team
A Nurse Practitioner-Led clinic (NPLC) in Ontario is an innovative primary health care delivery model funded by Ministry of Health and Long-Term Care, in which Nurse Practitioners (NPs) are the lead providers of care within an inter-professional health team and supporting staff. NPLCs improve access to care and focus on the quality of care through enhanced health promotion, disease prevention, chronic disease management and other ailments for clients of all ages that do not currently have a primary health care provider.
What is Nurse Practitioner? 
A NP is registered nurse with advanced university education and clinical training. NPs work both independently and in collaboration with other health professionals to take care clients' mental, emotional, physical and social aspects of their health needs within the nursing scope of practice.
What does a NP do?
Provide services in English, Cantonese and Mandarin. Interpretation services are available if needed

Diagnose illnesses and injuries

Perform health wellness annual check-ups 

Order and interpret laboratory, diagnostic and other screening tests 

Provide holistic counseling and education

Prescribe medications and immunizations

Perform minor office procedures such as Pap test, ear irrigation, suture and etc. 

Manage stable chronic diseases such as diabetes, hypertension, COPD, asthma and mental illnesses

Manage pre- and postnatal care and well baby visits

Refer clients to other health care professionals and specialists as needed
Mission Statement:
The clinic shall provide culturally competent and socially inclusive primary health care services with a focus on mental health through collaborative services, education, advocacy and research. 
Vision:
Equitable access to primary health care.
Commitment:
Responsive: We will be responsive to our clients' needs to ensure that from the initial point of contact, to service delivery and to follow-up, services are performed within an established timeline. 
Accessible: We will ensure that access to the clinic's collaborative care, whether sought by a new or existing client, will reach the most appropriate provider 
Accountable: Each of our staff members will deliver client-oriented service and be accountable for quality service received by our clients. 
Collaborative: We will take a collaborative approach to care by working with partners to ensure integrated physical and mental health services are provided in an equitable and culturally competent manner.
Integrated: Our services will be integrated to ensure clients can interact with our range of services in an efficient and effective manner 
Innovative: We will continue to evolve our service delivery model, using and developing leading practices in culturally competent community health models through our research and education partnerships.
Philosophy of care:
Our Team:
Our team consists of dedicated and committed medical professionals that serve to ensure the highest quality of health care is provided to you and your family. We have a range of culturally and linguistically experienced staff to assist you from
Nurse Practitioners

Registered Nurses

Registered Dietitian

Registered Social Worker

Health Promoter 

Collaborating Physicians and psychiatrists

Medical Secretaries and supporting staff